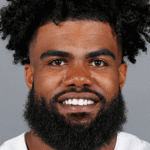 (Dallas, TX)  —  Running back Ezekiel Elliott has a new, massive contract extension that will keep him wearing the Cowboys' star for years to come.
Elliott and the Cowboys agreed on a six-year, 90-million-dollar extension today to settle the disagreement fueling the Pro Bowler's lengthy holdout.  With the extension, Elliott is set to become the highest-paid running back in the NFL, topping the four-year, 57.5-million dollar contract that Todd Gurley reached with the Los Angeles Rams last July.  According to reports, 50-million dollars of Elliott's contract is guaranteed.
Elliott becomes the latest Cowboys star to receive a long-term extension this offseason.
Copyright © 2019 TTWN Media Networks LLC
Share & Enjoy