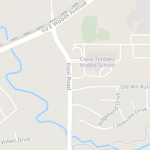 (Grapevine, TX) – There will be increased police presence at a Grapevine middle school today, after a bomb threat forced an evacuation.
Students and staff were rushed out of Cross Timbers Middle School Tuesday morning.  Police and bomb sniffing dogs went through the campus but didn't find anything.  The threat reportedly came in the form of multiple phone calls to the school.  Investigators say they now plan to analyze the calls to find out who made them.
Grapevine ISD said classes will resume today as normal.
Share & Enjoy