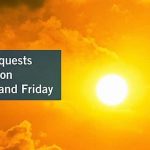 (Austin, Tx) – The state organization that manages the power flow to more than 25 million Texans is urging energy conservation as demand is expected to spike this week.
ERCOT is asking consumers and businesses to reduce their electricity use on Thursday, Sept. 5 and Friday, Sept. 6, especially during the hours of 2 to 7 p.m.  Some areas of Texas are expected to see the highest temperatures experienced so far this summer.  Temperatures are expected to exceed 100 degrees in North Texas through Saturday.
Steps to help reduce electricity use:
Turn thermostat up 2 to 3 degrees during the peak hours of 2 to 7 p.m.
Set programmable thermostats to higher temperatures when no one is home.
Use fans to feel 4 to 6 degrees cooler.
Limit use of large appliances (i.e., dishwasher, washer, dryer, etc.) to morning or after 7 p.m.
If you cook indoors from 2 to 7 p.m., use a microwave or slow cooker.
Close blinds and drapes during late afternoon.
Schedule pool pumps to run in the early morning or overnight hours; shut off between 2 and 7 p.m.
Share & Enjoy