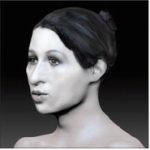 (Parker County, Tx) – Investigators searching for the identity of skeletal remains found last year near Lake Weatherford are getting a better idea of what the woman may have looked like.
The Parker County Sheriff's Office released a composite drawing made by a Texas Ranger forensic artist, of the female remains discovered by hunters in a pasture off Ragle Road on December 29, 2018.  Parker County Sheriff Larry Fowler says the sketch was based off of a biological profile was developed by the Tarrant County Medical Examiner's Office.
The profile is from a Hispanic or Asian female in her late 20s to early 30s, ranging from 4 feet 6 inches to 5 feet 3 inches tall, with a likely time of death to be from 2015 to spring 2018.  Investigators are still seeking information on the identity of the woman and the events leading to her death.