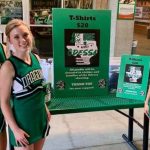 (Southlake, TX)  —  High school cheerleaders in Southlake are raising money to benefit the survivors of the recent mass shooting in Odessa.
The Southlake Carroll Dragon Cheerleaders created T-shirts as a fundraiser.  They've already reached their goal of $10,000 and are aiming for $15,000 by Friday.  One of the seven people killed on August 31st was 15-year-old Leilah Hernandez, a student at Odessa Permian High School.
Southlake Carroll and Odessa Permian have a football game on Friday, and that's when the check will be presented.
Copyright © 2019 TTWN Media Networks LLC
Share & Enjoy