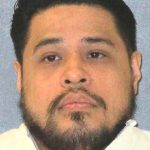 (Huntsville, TX)  —  A convicted killer from North Texas is the sixth Texas inmate to be executed this year.
Mark Soliz was given the lethal injection in Huntsville on Tuesday evening.  Soliz was on death row for the 2010 murder of a 61-year-old Godley woman as he and an accomplice were robbing her home.  Soliz's attorneys claimed he had fetal alcohol syndrome and should not be put to death.  The U.S. Supreme Court rejected one of his appeals earlier this year.
Nine more Texas executions are scheduled through December.
Copyright © 2019 TTWN Media Networks LLC
Share & Enjoy